The 5-star Almar Pension Mamaia Nord is located on the shore of Lake Siutghiol, opposite the Summerland apartment complex, 300 meters from Loft, Fratelli and Nuba beaches. Pensiunea Almar is a new location, built in 2016, right on the shore of the lake. In addition to the accommodation spaces, it...
---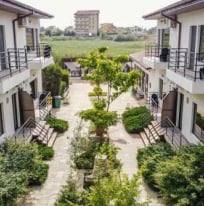 Alfa Pension (5 stars) is one of the best accommodation option in Mamaia Village, due to its luxury facilities and quality of services. The pension was opened in 2007. Located between Scoica Land Compelx and Corabia Piratolor, on Lake Siutghiol shore, Alfa Pension welcomes the tourists for a...
0241 999
400 meters from the beach and 1 km fron Mamaia res...
Inapoi minim 5 credite/noapte
See offers
---