Sat Vacanta Gura Portitei Villa
Jurilovca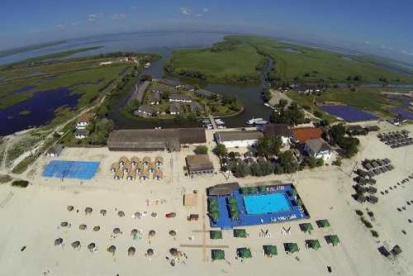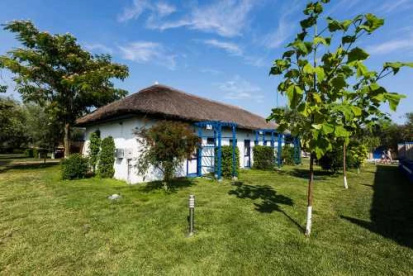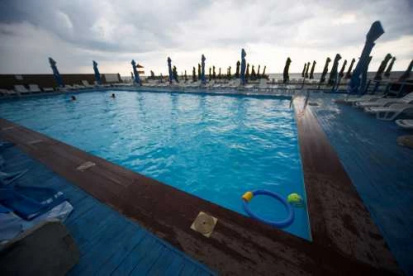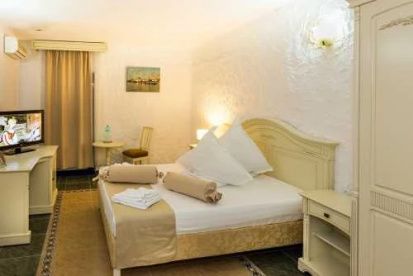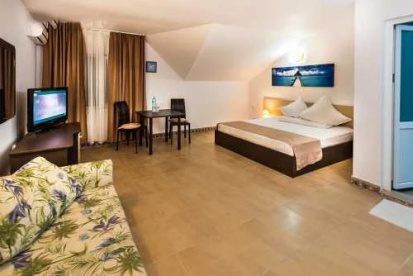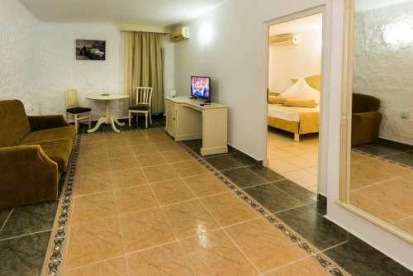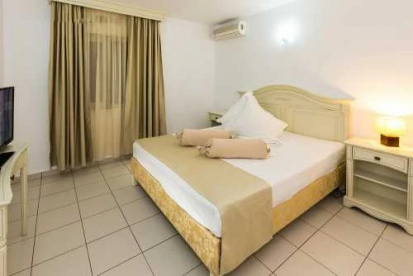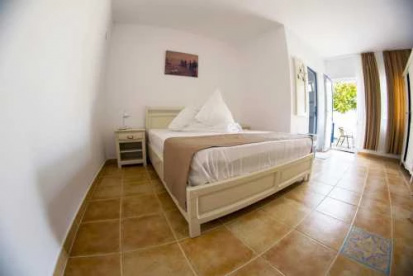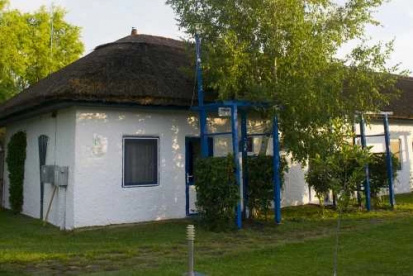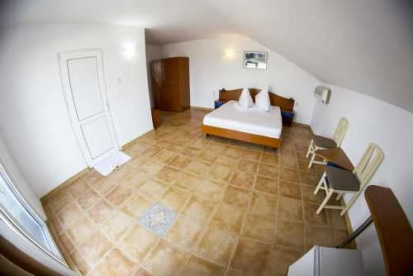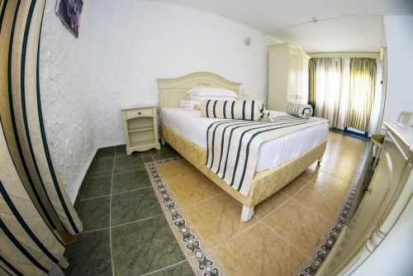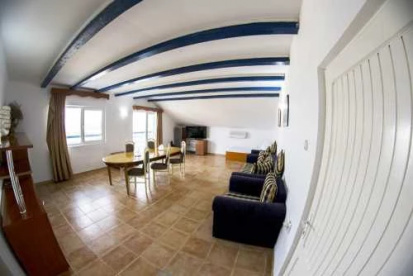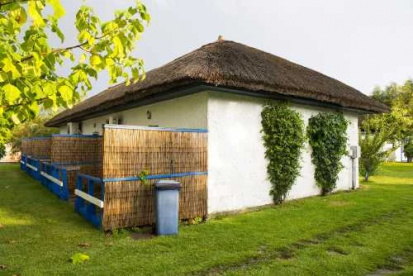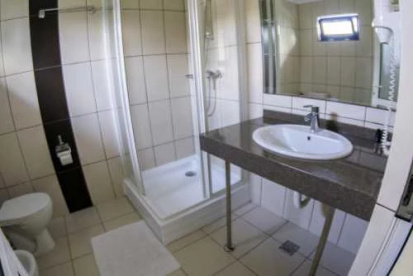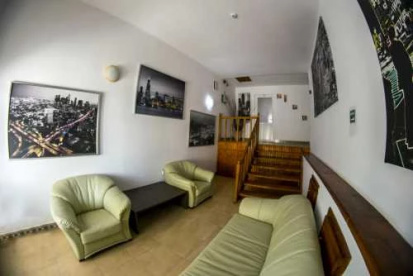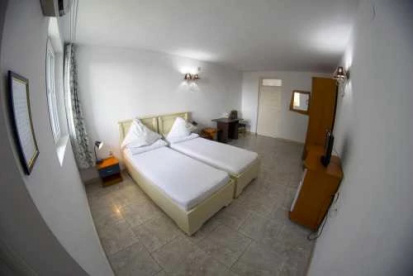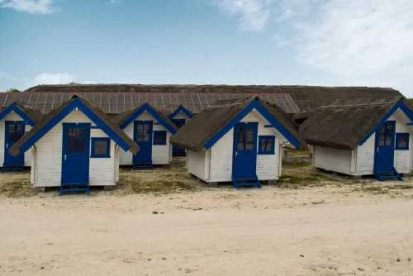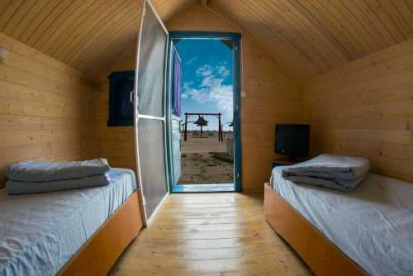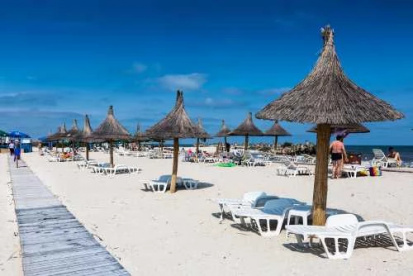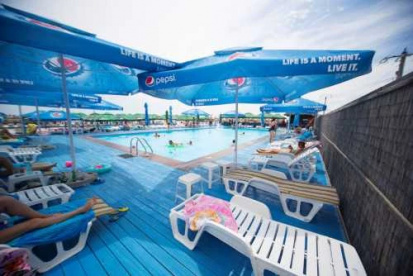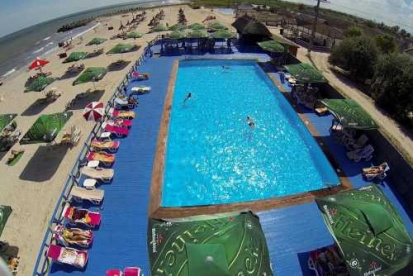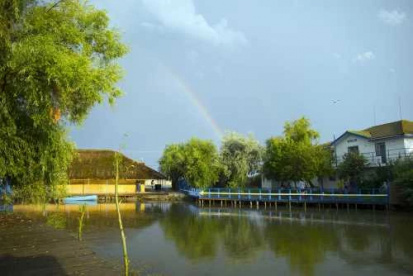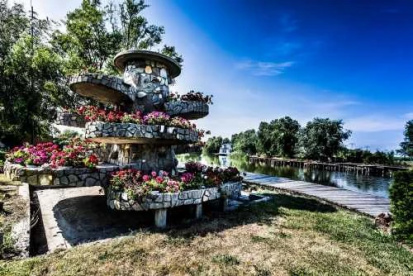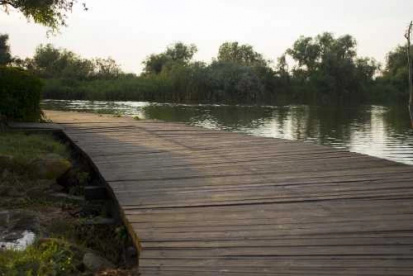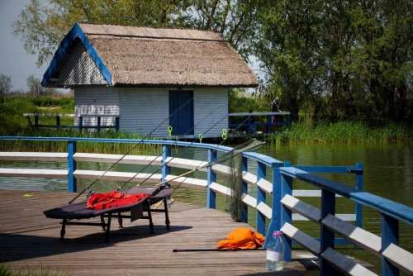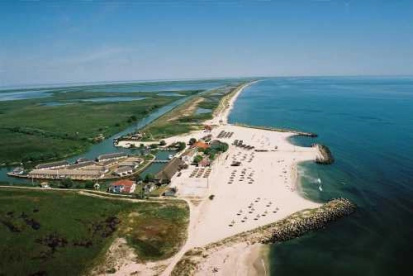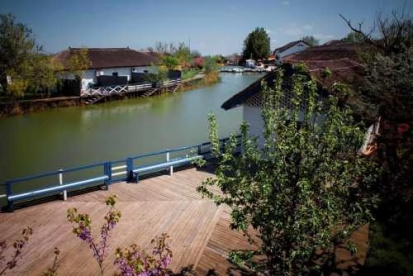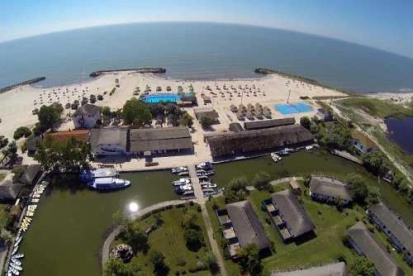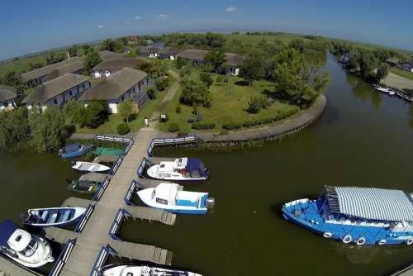 Satul de vacanta Gura portitei 3*** Jurilovca is located on a stretch of sand, between the Black sea and Golovita lake, 50 km from Tulcea. The complex expands in a very special location, sharing both ... Continue reading
Pool
Internet
Parking
Restaurant
Private beach
Air conditioning
Description Sat Vacanta Gura Portitei villa
Satul de vacanta Gura portitei 3*** Jurilovca is located on a stretch of sand, between the Black sea and Golovita lake, 50 km from Tulcea.
The complex expands in a very special location, sharing both the green Danube Delta scenery and the sandy beach. The accommodation spaces offer 3* amenities, featuring tv, air conditioning, minibar and bathrooms (with the exception of the beach bungalows, offering 1* amenities). Due to modernization works taking place on the complex site, accommodation will only be made in Casa Pescareasca, Delfinul and Scoica villas, until 15.07.2023.
Likewise, Satul de vacanta Gura Portitei provides a unique local culinary experience, with fish dishes in it's own restaurant, as well as an outdoor pool set with sun beds and umbrellas and private beach.
The complex also offers free parking in Jurilovca harbour and the boat trip to the location, for it's guests.
Fun fact: The first historical mention of what used to be a very pitoresque fishing village, was made in 1710. The area is known today for being a softer and more remote alternative to the lively destinations of the Romanian coast. Gura Portitei, located in the lagoon complex Razim-Sinoe, is a narrow strip of sand uniting the Black sea to Golovita liman and is an integrated part of the Danube Delta natural reserve. Moreover, in this area, the Argamum fortress can be found, the first ancient settlement ever recorded on Romanian territory, with surviving defence walls, streets and gate. According to some legends, the Argonauts made a brief halt here, on their way home, after finding the golden wool. Sadly, most of the fortress is unexcavated, but even so, it is still, a live testimony of the long history of these wonderful places.
Did you know that for reservations at Villa Sat Vacanta Gura Portitei Jurilovca you can receive a credit equivalent to 2% of the reservation value if you make the reservation logged into your account on the Litoralulromanesc.ro website?
Double rooms is villas
Beach bungalows
Restaurant
Outdoor pool
Private beach
Voleyball and tennis court - free
Parking in Jurilovca harbour - free
Transport from/to the venue with speed boats - free

Pool
Internet
Parking
Restaurant
Private beach
Air conditioning
Until the 15.07.2023, accommodation will be carried out only in Delfinul, Scoica, Casa Pescareasca villas
Delfinul villa - set on the beach and offering the best views, provides 14 double rooms with a 15 sqm surface each, spread on the ground floor as well as upstairs, equipped with matrimonial bed, bathroom with shower, minibar, LCD tv and air conditioning, wi fi. The roomsupstairs have no balcony, but the ones on the ground floor have a terrace. Maximum accommodation capacity is 2 adults.
Delfinul Apartment - located at the 2nd floor of Delfinul villa, offering a sea view, with a 60 sqm surface, consisting of a spacious living room with expandable sofa, table with 10 chairs, armchairs and a matrimonial bedroom. It is equipped with air conditioning, LCD tv, minibar, wi fi. Access to the bathroom is made through the bedroom. The terrace has a sea view. Maximum capacity 3 adults and 2 children up to 13 years old.
Scoica villa - set in the center of the beach area, it provides 6 generous double rooms with sea or lake view, located at the 1st floor, they do not have terrace, with a 25 sqm surface each, and fitted with air conditioning, matrimonial bed, LCD tv, minibar, wi fi and bathroom with shower. Maximum capacity 3 adults.
Casa Pescareasca villa - set on the beach, in a more private area, it offers sea view, it has a private terrace with 17 sqm surface, and the rooms have a 20 sqm surface and are fitted with air conditioning, matrimonial bed, LCD tv, minibar wi fi and bathroom with shower. Maximum capacity 2 adults.

After the 15th of July 2023, accommodation will be carried out in all the accommodation spaces.
Rooms will be fully renovated and set with air conditioning, wi fi, minibar, safe, LCD tv, bathroom with shower cabin.
Double rooms Dolosman/Agighiol/Sinoe/Holbina/Dranov/Delfinul/Scoica - have terracesc with exit on the green space.
Double rooms Ceamurlia/Leahova/Zmeica/Golovita/Razim/Periteasca/Casa Pescareasca/Casa Delfinul - have terraces exiting the peer, with opening to the channel.
Zaton villa is located on the beach.
The beach bungalows 1* (camping type) - are set on the beach, in close proximity to the pool, they are 40 houses set with 2 twin beds, without bathroom, but served by 2 shared bathrooms providing showers with running hot water and cold water, TV, wi fi, electrical socket and portable air conditioning.
Check-in: 16:00Check-out: 12:00
Breakfast is served in buffet system.
Schedule for speed boats: departure from Jurilovca: 10.30+/-15 min., 14.00+/-15 min, 18.00+/-15 min. departure from Gura Portitei: 12.00+/-15 min, 16.00+/-15 min, 18.00+/-15 min. For luggage exceeding 30 kkg/person, an fee of 25 lei will be charged.
Only 3 night stays with check-in on Tursday and Friday and 4 night stays with check-in on Sunday and Monday are allowed.
Guests benefit from free sun bed on the beach, as well as a free pedal boat ride on the lake (1 hour/room/day).
Pool access is subject to extra charge, paid in reception.
Pets are not allowed.
Standard accommodation rates for summer - 2024
Tarife de cazare si masa pentru sezonul estival - 2021
Perioada
Camera dubla
Bungalow Ceamurlia/Leahova/Zmeica/Delfinul
Camera dubla
Bungalow Golovita/Razim/Periteasca/
Dolosman/Agighiol/Sinoe/Scoica
Camera dubla
Bungalow Holbina/Dranov/Zaton/
Pescareasca/Casa Delfinul
Apartament
Bungalow Delfinul/Holbina/ Dranova
Casuta 1*
03.05-02.06
627 lei
627 lei
676 lei
749 lei
578 lei
03.06-16.06
700 lei
676 lei
774 lei
872 lei
578 lei
17.06-30.06
798 lei
774 lei
872 lei
970 lei
578 lei
01.07-14.07
921 lei
872 lei
970 lei
1044 lei
578 lei
15.07-28.08
1000 lei
964 lei
1076 lei
1137 lei
584 lei
29.08-04.09
921 lei
872 lei
970 lei
1044 lei
578 lei
05.09-18.09
798 lei
774 lei
872 lei
970 lei
578 lei
19.09-02.10
700 lei
676 lei
774 lei
872 lei
578 lei
Tarifele sunt pe noapte, pentru sejururi de minim 3 nopti cu intrare Joi si de minim 4 nopti cu intrare Duminica si includ cazare pentru 2 persoane in camera dubla /apartament si fisa cont de 350 lei/camera/apartament/zi, parcare in limita locurilor disponibile in Jurilovca, transport pe lac de la Jurilovca la Gura Portitei tur-retur, sezlong pe plaja pentru persoanele adulte, 1 ora/zi/camera plimbare cu hidrobicicleta pe lac.

Facilitati copii:
- 2 adulti si 1 sau 2 copii 0-6.99 ani beneficiaza de gratuitate la cazare, fara pat suplimentar.
- 2 adulti si 1 copil 7-13.99 ani, copilul achita 75 lei/noapte si benefiaza de pat suplimentar.
- 2 adulti si 2 copii 7-13.99 ani, primul copil achita 75 lei/zi si beneficiaza de pat suplimentar, al 2-lea copil achita 50 lei/zi si beneficiaza de pat supliumentar.
- al 3-lea adult achita 150 lei/zi si beneficiaza de pat suplimentar.
Cpacitate maxima camera dubla/apartament: 2 adulti si 2 copii 0-13.99 ani sau 3 adulti.
Capacitate maxima casuta: 2 adulti.
Book online Sat Vacanta Gura Portitei Villa
Jurilovca
To make a hotel rezervation at Sat Vacanta Gura Portitei Villa Jurilovca please fill in the form below contact information
Frequent questions for Sat Vacanta Gura Portitei Villa Jurilovca
The following types of rooms are available for this hotel :
Reservations made at this hotel can be paid in cash according to the specifications on the invoice, by bank transfer in the agency's accounts, online with the card or with holiday vouchers (holiday vouchers).
Yes, the hotel has its own restaurant.
At this hotel the tourists can stay starting with the hour 16:00 , and the maximum check-out time is 12:00
Yes, you can pay with both vouchers and a holiday card.
Most recent reservation at
Sat Vacanta Gura Portitei Villa
:
30.09.2023
at
12:12
We know how important the details and photos of a hotel are in making the decision to book a vacation. That is why we strive to provide you with the most detailed descriptions of the accommodation units that we promote on our website and we rely on our hotel partners to provide correct and relevant information. However, the information presented may undergo further changes depending on the evolutions and activities of the hotels. Therefore, we reserve the right to make the necessary updates whenever the situation requires it.
Jurilovca

accommodation
Jurilovca Hotels - accommodation offers for Jurilovca hotels